The Panasonic ES-LA63-S Arc4 Men's Electric Razor is one of the best shavers we can find in the market. It allows you to have a very smooth and comfortable shaving each time you use the shaver. The awards and the positive user reviews this shaver has received has made it one of the most popular electric shavers.
For guys who are looking for the smoothest and most efficient shave, the search is over. With the Panasonic ES-LA63-S Arc 4 Multi Flex Nanotech Rechargeable Shaver, you will experience not only the best shave but also a revolution on the way you shave. A wet and dry rechargeable shaver, this state-of-the-art Panasonic shaver is equipped with an ultra-slim Vibrating Outer foil. Measuring only for about 41 micrometers, this vibrating outer foil produces subtle vibrations that cause hair follicles to lift. In effect, you will experience the smoothest and closest shave ever.
Standout Features:
Flexible Shaver Head
Four 30-degree ultra-sharp Nanotech blades
Pop-up details trimmer
Multi-fit ARC Foil for Maximum Grooming Comfort
Can Be Used Either Dry Or Wet
Easy to Clean
Key Benefits Of The Panasonic ES-LA63-S Arc4 Shaver
Well, this is just the tip of the iceberg. The ES-LA63-S Arc4 Multi Flex Nanotech Rechargeable Panasonic Shaver is also equipped with Multi-Arc Blades. These blades can deliver the evenest pressure on your chin as well as a nice shave that is evenly-countered. If this is not enough and you are still looking for that ideal shave, you can tap off the best features of this razor: nanotechnology-powered inner blades with an angle of 30-degrees. Driven by a 14,000 cycle/minute liner motor, you can expect nothing but the closest hassle-free shave.
This superior shaver is also equipped with a fully-automatic self-charging and self-cleaning mechanism. The mechanism enables the Panasonic shaver to automatically clean, dry, and charge itself more efficiently. To boost the cleaning power of the shaver, all you need to do is push the button that activates the sonic vibration self-cleaning mode. No more unwanted hair shavings and no more mess in the lavatory. Another cool feature of the ES-LA63-S Arc4 Panasonic Shaver is its illuminated blue LCD display. It also has a switch lock button plus a patented pop-up trimmer specially designed to trim sideburns and mustaches in just a snap. As if these features are not enough, this razor is also ergonomically designed to facilitate a comfortable no-slip grip while shaving.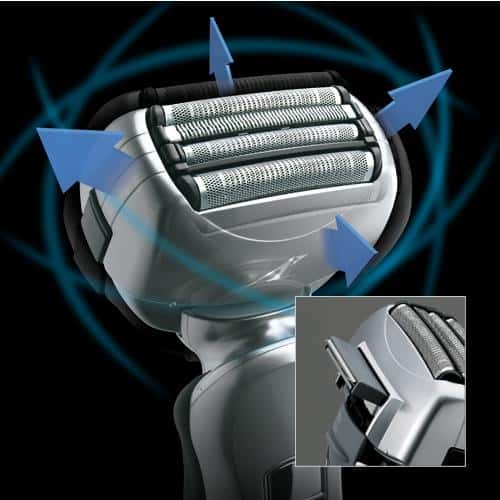 Flexible Shaver Head:
Flexible Shaver Head reduces the time you will need to shave. The Panasonic Arc4 multi-flex razor has an adjustable shaver head that can flex both ways, you can get a good shave in just one pass (unlike other shavers, where you need more than one pass to get a good shave). As such, it will dramatically cut down the amount of time you need to shave.
Can Be Used Either Dry Or Wet:
One thing we like about this shaver is the fact that you can use it either dry or wet (for example, when you are showering).
Pop-up detail trimmer:
The Panasonic ES-LA63-S Arc4 has a pop-up body trimmer fitted at the back of the shaver head. You can opening it easily and use for the sideburns and mustache detailing.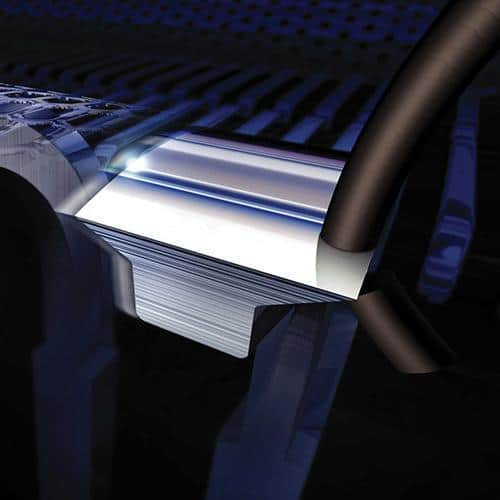 30-Degree Stainless-Steel Nanotech Blades:
This Panasonic ARC4 rechargeable razor features a 30-degree cutting edge to cut efficiently and cleanly at the root. Stainless-steel, hypoallergenic blades and foils provide gentle comfort shave every time, even on sensitive skin.
Longlife Battery:
The shaver has a Lithium-ion battery for long-lasting performance. The battery can be charged fully in about an hour and can give you 45 minutes maximum shaving time.
Works Quietly:
This is one of the very few shavers that work quietly (as the motor on this device works very quietly). If the loud noise of some shavers out there in the market is a concern, you will not go wrong with this one.
LCD Indicator:
The shaver handle has an LCD Screen indicator with a 10 stage meter to tell you the charging status of the device when the battery is running low and needs to be charged.
User Reviews
Because of the ingenuity of this Panasonic shaver model, it is receiving many raves from critics and buyers. It has also garnered volumes of positive reviews from authoritative online gadget magazine sites, an impressive feat because this electric razor has just been introduced to the market only recently. One web magazine even went far by calling the ES-LA63-S Arc4 Multi Flex Nanotech Rechargeable Panasonic Shaver, one of the most genius innovations of the decade. Not bad considering that there are still some cons that one should consider when buying this shaver. Before going through that, it is essential to summarize the most significant advantages of purchasing this shaver.
With this excellent shaver, you will get to experience the smoothest shave on your face and neck. The experience that you will get is as close to shaving with a razor blade. Some users cannot even tell the difference. This electric razor feels more comfortable than other competing brands. And since this shaver is self-cleaning, there is no need for you to buy cleaning cartridges. With just a push of the button, you can quickly rinse this Panasonic shaver with water. The shaver is water-resistant so you can definitely use it in the shower while wet.
Flexible Shaver Head


Multiflex pivoting head


Four 30-degree ultra-sharp Nanotech blades


Sonic vibrations cleansing mode


Wet/Dry Use


High power linear motor


Pop-up details trimmer
No Quick charge option

Can't be used corded
Final Verdict
Now that you already know about the advantages of this electric shaver, it is time to check some of the manufacturer's shortcomings. Perhaps one of the most recognizable flaws of the Panasonic ES-LA63-S Arc4 Multi Flex Nanotech Rechargeable Shaver is its lack of excellent customer relationship appeal. This can be reflected in its lack of manual instructions. The official website of the product has no downloadable file that would help users know more about the product. Aside from these minor shortcomings, the ES-LA63-S Arc 4 Multi Flex Nanotech Rechargeable Panasonic Shaver is simply one of the best shavers that have ever been made after so many years.